October 2018
An impressive bird's-eye view of the hotel development in Barrow shows the speedy progress being made on the construction project.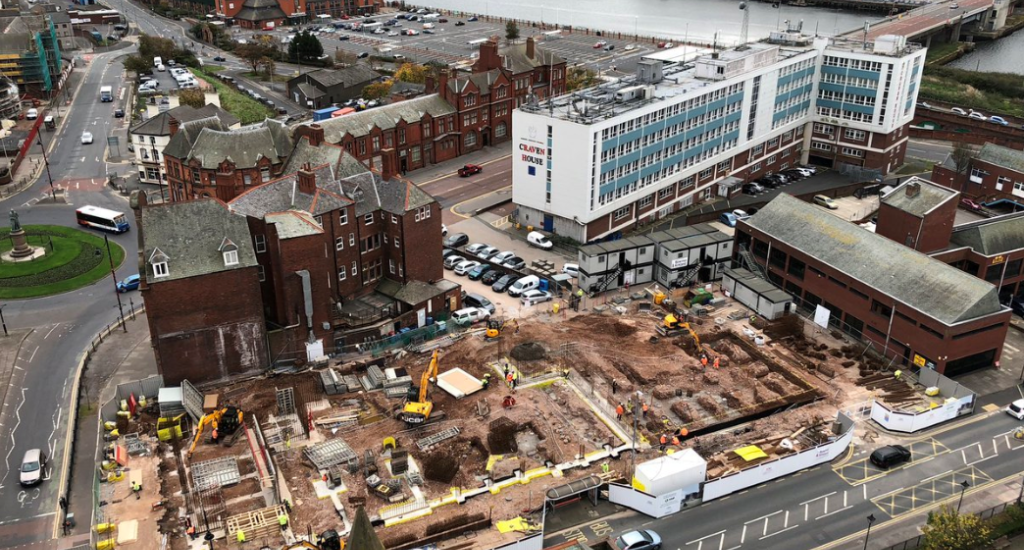 Twitter user Daniel Crowe posted a series of incredible images of the Holiday Inn Express site seemingly taken from the clocktower of Barrow Town Hall.
The pictures show the structure beginning to take shape with the foundations now laid for the 127-bedroom hotel.
He said: "No time being wasted building the new Holiday Inn in Barrow".
The Holiday Inn is the latest in a series of hotel projects in Barrow.
The new hotel sits on the site which was formerly the home of Barrow Police Station for decades after being built in 1958.
The site was originally developed as a fire station and open market and included the rear gardens for residential properties to the south.
In 1956 the police station and magistrates' court was opened at a cost of £137,153. It was refurbished in 1998, closed in 2015 when its £8m replacement opened in Andrews Way and later sold from a guide price of £850,000.
A restaurant will be based in part of the ground floor of the new hotel overlooking and directly opposite from Barrow Market while the rooms will be spread across four storeys.
A number of contractors are involved in the hotel's construction including Barrow-based Harry Barker Properties which has been signed up to carry out groundworks at the site.
The main contractor is Bowmer & Kirkland which is building the hotel on behalf of Ashall Projects.
Construction began in September, following the demolition of the police station, and the hotel is set to be completed by November 1, 2019.
Stuart Klosinski from the Furness Economic Development Forum said the Holiday Inn development was "well under way" and said the development would "boost business and tourism".
He added: "It will also create a significant number of new jobs for local people".
"We were delighted with the commitment received from Ashall and its contractor to working with us and Jobcentre plus to deliver potential opportunities for local people and local firms to benefit from this massive town centre investment."
Holiday Inn is a British-owned American brand of hotels and a subsidiary of InterContinental Hotels Group.
Holiday Inn Express hotels are smaller versions of Holiday Inn hotels with fewer amenities and services.
Across the world there are more than 2,469 Holiday Inn Express hotels and over 1,145 Holiday Inn locations.