Article featured in the Property Week North East Magazine - 25 January 2019
Back in 2004, when Tees Valley Regeneration, then the biggest of England's government-sponsored urban regeneration companies, published a £500m masterplan for Middlesbrough, it was nothing if not ambitious.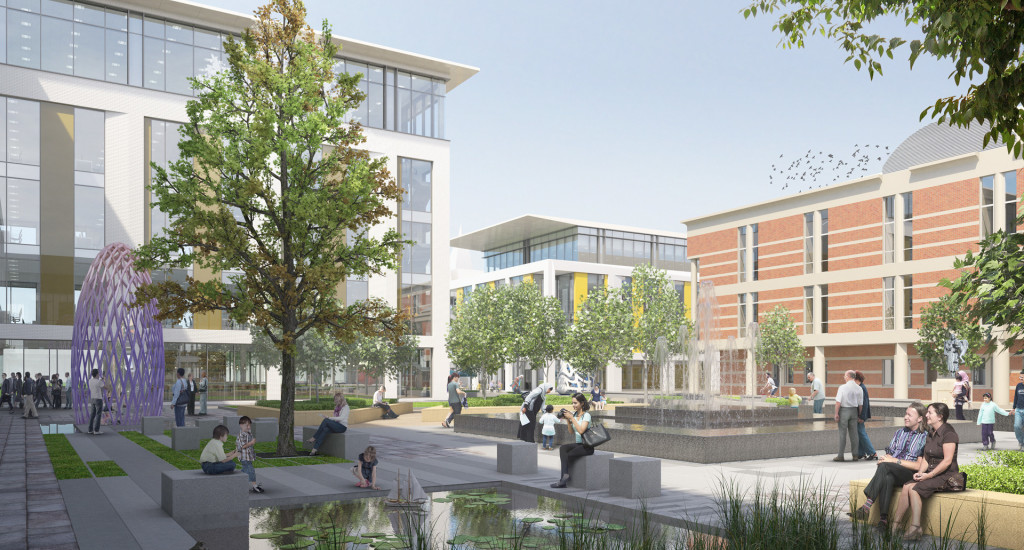 Drawn up by architect Will Alsop, who died last year aged 70, the plan boasted a range of radical proposals, not least a hotel designed to look like a giant Champagne bottle and apartment blocks in the shape of Prada skirts.
Then came the 2008 global financial crisis, prompting the coalition government to slash public sector regeneration budgets. Tees Valley Regeneration was dismantled, alongside its counterparts across the country. The impact on the grand vision for Middlesbrough was inevitable.
However, after a long hiatus, regeneration plans, albeit more grounded in reality, are again starting to take shape, this time driven by the local authority.
So what is the new strategy?
Two years ago, Middlesbrough Council published an investment prospectus setting out the authority's investment ambitions and strategy for the renewal of the town and its hinterland. The document is undergoing a review, but what is striking is how many of the priorities it lists are already moving from concept to reality.
"What's interesting is what's happened since the prospectus was produced," says Kevin Parkes, executive director of growth and place at Middlesbrough Council.
Perhaps most significantly from a commercial property perspective is the Centre Square development in the heart of the town. The project promises to reinvigorate the local Grade A office market, but the first steps towards it becoming a reality were taken in the hospitality sector.
Mark Ashall, director of Ashall Projects, says: "Our involvement in Middlesbrough started with a project where we converted some derelict offices along one side of Centre Square into a 138-room Holiday Inn Express."
The developer started on the project in mid-2013, signed a development agreement in March 2014 and opened the hotel in 2015. As Middlesbrough's economy was still in recovery, this appeared to be a brave move, but Ashall says there was a supply/demand imbalance in the town's housing market even then.
Positive experience
Moreover, he adds that "the council helped us by acting as the senior lender".
"They provided the debt finance on the project and our experience with them was extremely positive," he says. "They wanted to help us to pursue our project and regenerate the town centre. They were proactive in seeing what they could do to help us, rather than standing on the sidelines or being negative."
Ashall's experience working with the council was so positive that he decided he wanted to pursue other opportunities in Middlesbrough. "Having established a good working relationship with them, we had a look to see what other opportunities existed and it became apparent that the Centre Square site was a good location for grade-A offices," he says. "In early 2017, we submitted an outline planning application and detailed planning application for two buildings."
Planning permission for the first phase was secured in May 2017, after which the council agreed to take on a 35-year lease for both buildings, taking one for a new civic centre and acting as landlord on the other. With pre-lets in place, Ashall was able to go out to the market and in summer 2018 agreed terms with M&G Investments to fund the development and purchase it upon completion.
The two buildings are due to be completed this August. Ashall says his company is already in talks with "three or four" potential occupiers for the second building and that "we are confident the building will be let at or shortly after completion".
Shortage of grade-A space
That shouldn't come as a surprise, he says. "The idea behind the whole development is that there has been very little new development in Middlesbrough in the past 10 to 15 years. As a result, there has been an exodus of companies because there has been basically no grade-A offices and a limited supply of decent space."
The current phase of development at Centre Square totals around 100,000 sq ft. While Ashall is understandably focused on the matter at hand, Parkes says there is the potential for the project to ultimately create around 300,000 to 400,000 sq ft of grade-A offices. "We have other land under our control that is subject to the performance [of Centre Square] if it is to come forward," he says. "There will be a minimum of seven buildings in the scheme."
To give the project the best chance of success, the council is investing in other aspects of Centre Square as part of its town centre strategy. The council recently spent £8m refurbishing the square's concert hall and is making several other smaller interventions. "It's not just all about offices," Parkes says. "We have a series of smaller cultural investments also going into that area and we're complementing it with a food and beverage offer to really make it a destination in its own right."
Working in the centre of town allows people to have easy access to local amenities and transport
Mark Hill, Jomast
Albert Road, connecting Centre Square to Middlesbrough train station (itself the subject of ambitious plans, including a direct link to London) is also being regenerated. Local developer Jomast and the council are in the midst of a mixed-use project aimed at reinvigorating the road and building a new business hub known as Albert North.
"Our aim is to bring together passionate people and inspiring businesses in one exciting business community," says Mark Hill, commercial property director at Jomast. "Companies are looking for bespoke office accommodation and creative spaces with flexible terms and attractive incentives, which is exactly what Albert North will offer. More people want to work in the centre of town as it allows them to have easy access to all the local amenities as well as good transport links."
Also in the centre of town, in the areas immediately to the north and south of the train station, the council has plans to create additional space for Middlesbrough's digital hub, known as Boho. Middlesbrough was one of the places namechecked in the government's Tech Nation report, which maps the evolution of the UK's tech sector, and it is clear that Parkes and his colleagues want to build on that sector's success.
Digital business cluster
"We've got plans for the further development of that sector, which have been created alongside the digital business community," Hill says. "There will probably be another 100,000 sq ft over the next five years. There are six digital business centres on the site already and this will add to that cluster. At the moment it is council-led, but there is private sector investment as well from different sources."
The success of the digital economy in Middlesbrough is due in no small part to the success of its university, which is also expanding rapidly. Two years ago, Teesside University made a commitment to invest £300m in the development of its campus. Around £130m to £140m of projects are currently under way and two student village developments are to follow.
Elsewhere in Middlesbrough, local developer Cool Runnings has been working up plans for a snow centre, dubbed Subzero, on the Middlehaven site. In addition to two ski slopes, the project includes other leisure uses such as trampolining, climbing and a gym, as well as food and beverage space and some retail.
"We have achieved outline planning consent," says Stephen Brown, senior partner at agent Dodds Brown, which is working on the project. "We're talking to restaurants, outdoor clothing retailers and trampolining, climbing wall and gym operators. We're finalising the snow operator at the moment. We've got interested parties – it's just about finalising terms."
The developer will not start building the project until primary operators have signed on the dotted line – a spec snow centre would be quite a reach – but Brown is confident that it will happen. "It is an aspirational project, but it would have a significant impact on the local economy," he says. "It's estimated that it will add between £9.9m and £12m to Tees Valley's GVA per annum, creating between 440 and 540 jobs and attracting 2.25 million visitors a year."
Manufacturing park plan
Middlesbrough Council is also investing in its Advanced Manufacturing Park, about a mile and a half to the west of the town on the A19. The project, which involves the reclamation of a site previously occupied by a steelworks, comprises 10 buildings and is being brought forward by Linthorpe Developments.
"The current phase totals 200,000 sq ft of high-quality manufacturing floorspace," says Parkes. "The council is purchasing those buildings. It's anchored by an organisation called TWI and they've already finished a 30,000 sq ft research and training institute on the site. We also have a couple of pre-lets."
"The council has really grasped the nettle - Middlesbrough at the moment is being transformed"
Stephen Brown, Dodds Brown
So there is a large amount of commercial development happening in Middlesbrough, the vast majority of it supported in some sense by the council. This hasn't gone unnoticed or unappreciated by the private sector.
"Middlesbrough at the moment is being transformed," says Brown. "The council has really grasped the nettle. They're delivering all the projects they set out a couple of years ago. The executive is very ambitious and they have a real can-do attitude – these projects wouldn't be happening in normal circumstances."
If the council and the various development partners it is working with are successful in bringing all the proposed schemes to life, Middlesborough and its burgeoning property market could well be put back on the map.